Our concept is simple
– we want to be the one place you go for all your marketing.
Say Goodbye to Juggling Various Design and Online Needs. Discover the Nettl of Glasgow Difference.
No longer do you need to manage different entities for graphic design, printing, signage, and website development. Our distinctive approach sets us apart. As an independently owned enterprise, we boast an in-house team of designers and printers, complemented by our affiliation with the global Nettl network. This affiliation empowers us to tap into Nettl's extensive resources, including teams for nationwide sign-making and installation, litho printing, SEO & PPC services, branded merchandise creation, social media management, and software/web development.
This strategic utilisation of resources enables us to deliver exceptional products and services at budget-friendly rates. Instead of directly hiring all these experts, we strategically deploy their expertise as required. Often, this journey begins with branding and graphic design, seamlessly progressing to printing, web design, exhibitions, and signage.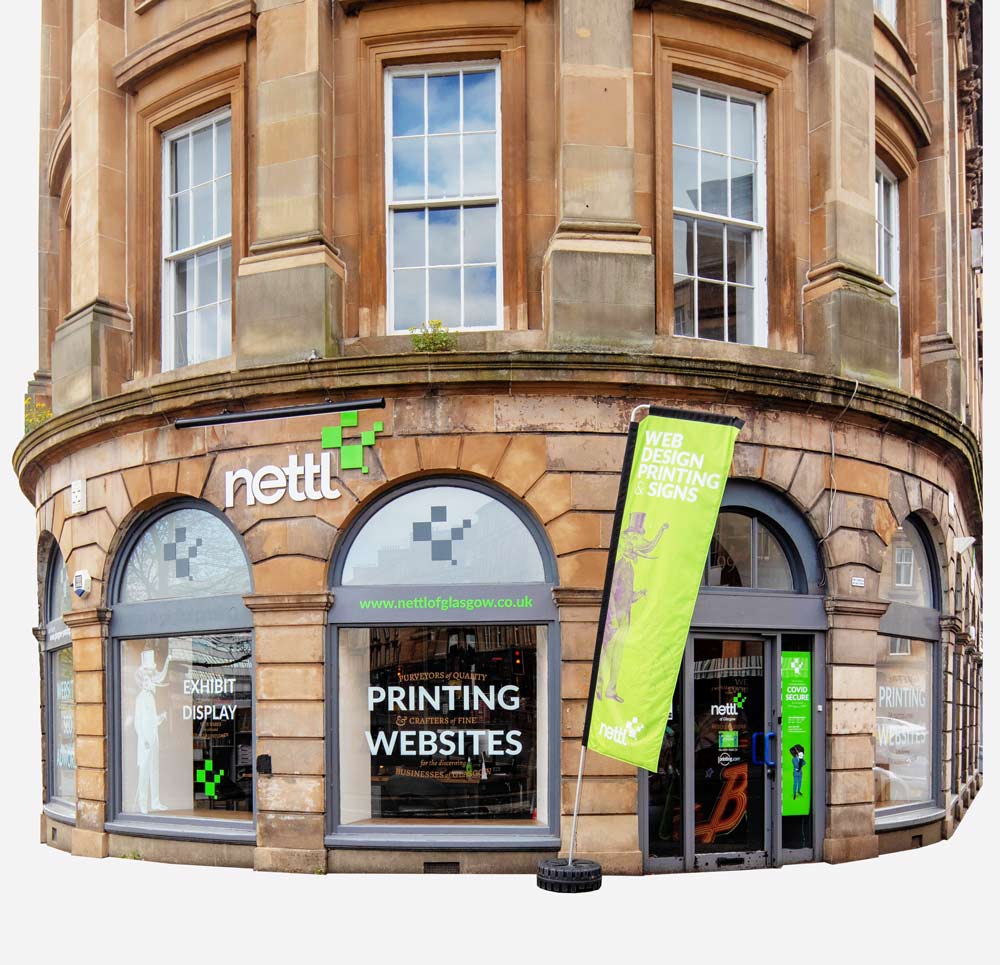 Our location is equally iconic and central within Glasgow, situated at the intersection of Argyle Street and Minerva Street in the vibrant Finnieston area—a creative hub within the city. Our 175-year-old building stands as a recognisable landmark, and we're conveniently situated a mere 5-minute walk from the Scottish Exhibition Campus (SEC), well-positioned to cater to conferences, exhibitions, and events.
Within our premises, you'll find designated design spaces, meeting rooms, and a fully equipped digital print hub. This hub houses everything required to produce a diverse range of digitally printed items—all under one roof.
In tandem with our Glasgow studio, we operate a sister studio in Edinburgh, mirroring the same features while also boasting an exhibition stand showroom showcasing our complete array of printed fabric displays.
Nettl of Glasgow and Edinburgh cover the entire Scottish central belt and extend their services beyond these boundaries. Our teams collaborate seamlessly, serving customers not only across Scotland but also throughout the UK and internationally.
The Nettl concept is that we have a team on two levels.
The first involves our front-line teams stationed in Glasgow and Edinburgh studios—these are the individuals directly engaged with customers like you. From web design to graphic design, customer support, and communication, these experts form the backbone of your experience.
On the second tier, we have the central Nettl teams, adept at handling intricate tasks in Search Engine Optimisation (SEO), Pay Per Click (PPC) advertising, Social Media Management, and Software Development. We integrate these teams on a project-specific basis, leveraging their expertise without needing to directly employ them, thus ensuring the utmost competitive pricing for these indispensable services.